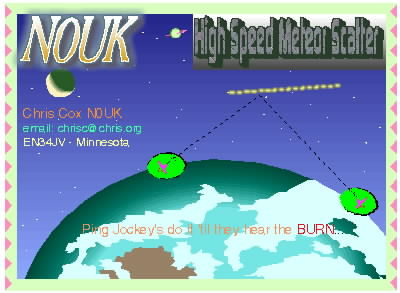 &nbsp
Ping Jockeys do it 'til they HEAR the burn!
---

High Speed Meteor Scatter Scheduling (aka) PingJockey Central page
Joe Taylor, K1JT's, et al excellent WSJT-X` high-speed meteor scatter and extreme weak-signal communications software.
---



Initials listing of stations worked via HSMS (with JPEG Map).
Here you can find some sample HSMS CW recordings (.WAV format)
Bob, WB5APD HSMS web page, including the useful HSMS Procedural Flowchart.

---
This is not actually Meteor Scatter related, but certainly of interest to VHF and operators, 20th International EME Conference (aka EME 2024 conference)

---
I've been hit

times since the 26th June 2007
---
Back to my homepage.
Powered by
Last modified: 14 September 2023


---

Chris Cox - chrisc@chris.org